Summary:An ice making machine can be either a stand-alone appliance or an industrial machine. In most cases, the term ice making machine refers to a stand-alo...
An
ice making machine
can be either a stand-alone appliance or an industrial machine. In most cases, the term ice making machine refers to a stand-alone appliance. However, some manufacturers also produce industrial machines. To find the best ice maker for your needs, it is important to compare features, price, size, and production rate.There are many different types of ice making machines. One of the most common types is the flake ice-maker. These units are usually installed on smaller fishing boats, and produce seawater ice. They are relatively easy to use and maintain. These units come in a variety of sizes and features.The types of flake ice machines vary in their features. Many are designed with blades and shafts for crushing ice. These machines can operate at low temperatures to optimize the crushing process. They may also have shielding to protect control panels and other parts of the unit from damage.
YT-E-004 2.8L White 120W 220V ABS Ice Maker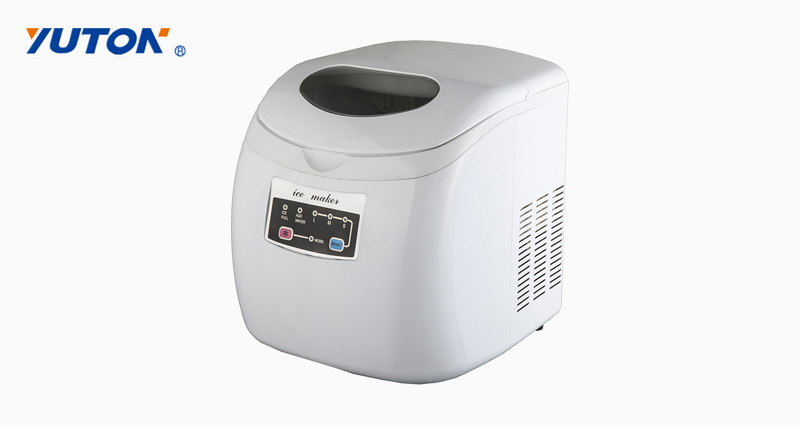 Feature of function:
1. Making ice quickly and it will cost 9-10 minutes a round of making ice. The ice will drop to the basket automatically.
2. It is economic and energy-saving. It uses environment friendly refrigerant R134a or R600a.
3. The product uses infrared sensitive technology to have correct reaction to the different conditions of the ice maker. When the basket is full of ice, the machine will stop working automatically. When ice cubes are taken away, the machine will work again. If the water tank lacks of water, the machine will also stop working to wait for more water.
4. Ice storage foam layer has good insulation. Front foam layer can store ice for a short time.


You may want to purchase an ice machine with a pressure regulating valve.Another type of ice making machine is a slush ice machine. These machines produce subcooled ice crystals that can be pumped through flexible hoses. Because seawater freezes at lower temperatures than freshwater, slush ice is a good option for vessels in a limited space. It can also help extend the shelf life of fish.If you're on a budget, a portable ice maker is the way to go. They can make a lot of ice in a short period of time. Portable models also don't need to be large or expensive. You can find portable models from Hicon, a company that makes a number of other portable ice makers. There are some differences between the models, but they are minor and you can pick the most affordable one or the one with the most features for your needs.
Another advantage of a portable ice maker is that they are small and portable, which makes them useful for RVs and small gatherings. They are easy to operate too. All you have to do is press a button to start the process. There is a water level indicator on the machine, which means that you can see if you need to replenish the water reservoir. There are also self-cleaning features and convenient handles so you can easily transport the machine.There are a few different models of ice making machines available in the market today. Some of them are portable while others are big and bulky.
Portable ones are great for road trips and small gatherings. You may want a smaller model for home use, but there are plenty of options available at affordable prices.The size of the ice making machine is an important factor in choosing the right one for your needs. Larger units will produce more ice, but they'll be more expensive to operate. Smaller machines can be placed closer to where you need them, making transporting ice easier. They can also make more than one kind of ice, so they're a good option if you want to keep up with hourly demand.