Summary:1. After using the ice making machine clear the ice cubes in the refrigerator. When cleaning the ice machine, the power should be turned off. Do not f...
1. After using the
ice making machine
clear the ice cubes in the refrigerator. When cleaning the ice machine, the power should be turned off. Do not flush the machine directly with a water hose. Use clean water, add an appropriate amount of neutral detergent (acidic, alkaline and other corrosive solvents are strictly prohibited) to wipe the machine shell and inner container, and then wipe with a soft cloth.
YT-E-006 2.5L 150W Round Ice In Bullet Shape Ice Maker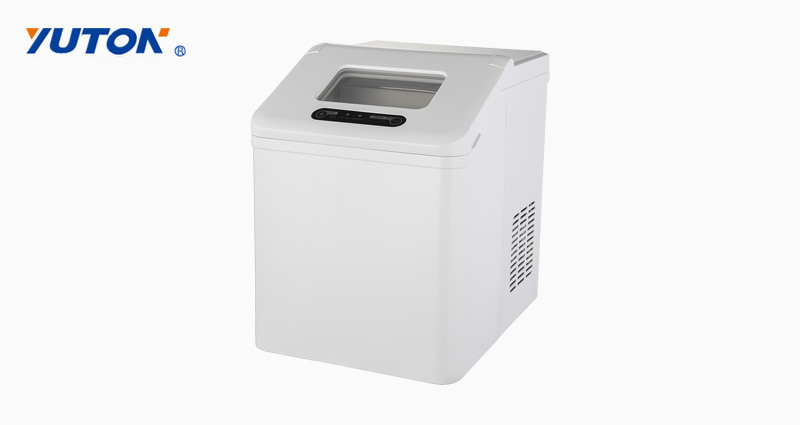 Feature of function:
1.Making ice quickly and it will cost 9-10 minutes a round of making ice. The ice will drop to the basket automatically.
2.It is economic and energy-saving. It uses environment friendly refrigerant R134a or R600a.
3.The product uses infrared sensitive technology to have correct reaction to the different conditions of the ice maker. When the basket is full of ice, the machine will stop working automatically. When ice cubes are taken away, the machine will work again. If the water tank lacks of water, the machine will also stop working to wait for more water.
4.Ice storage foam layer has good insulation. Front foam layer can store ice for a short time.


2. The ice machine should unscrew the head of the water inlet hose and clean the filter screen of the water inlet valve for two months to prevent the water inlet from being blocked by sediment and impurities in the water, resulting in reduced water inlet and failure to make ice.


3. Clean the dust on the surface of the condenser every two months. Condensation and poor cooling can cause damage to compressor components. When cleaning, use a vacuum cleaner, a small brush, etc. To clean the putty on the condensation surface, do not use sharp metal tools to clean it, so as not to damage the condenser.

4. The water pipes, sink, refrigerator, and protective film of the ice machine must be cleaned every two months. When not in use, it should be cleaned.


5. Clean it, dry the ice mold and the moisture in the box with a hair dryer, and put it in a dry, non-corrosive gas and ventilated place, avoiding outdoor storage.