Refrigerators have become one of the indispensable home appliances for people now. Especially in summer, every household relies on the refrigerator to store food, but there are also hygienic problems in the refrigerator that we can't imagine. If you are not careful, it may produce a lot of bacteria. . So how to keep the refrigerator clean?
How to keep the refrigerator clean
1. Don't put everything in the refrigerator.
12V portable refrigerator
The vegetables you bought should be sorted before processing. Those vegetables that are not suitable for storage in the refrigerator, such as radishes and potatoes, should not be stored in the refrigerator.
2. Wash the raw meat first: After buying the fresh meat, rinse it with clean water first, let it dry for a while, then put it in a fresh-keeping box or fresh-keeping bag, and put it in the freezer.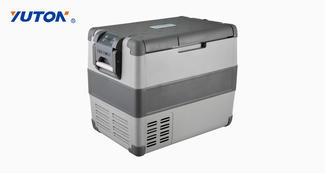 3. Zoning: For food cleanliness and prevention of cross-infection, food should be placed in different regions. In the refrigerator, put fruits and vegetables on the bottom, cooked meat and dairy products on the top, and leftovers and leftovers on the middle layer.
4. Make good use of fresh-keeping boxes and fresh-keeping bags: Using fresh-keeping bags and fresh-keeping boxes can strengthen the sealing of food to a certain extent and prevent food from being contaminated by bacteria. In addition, even if the fresh-keeping box and fresh-keeping bag are used, the food cannot be stored in the refrigerator for a long time, otherwise it will deteriorate.
5. Regular cleaning: The refrigerator should be cleaned once a week. When cleaning, you should cut off the power first, use a soft cloth dipped in clean water or detergent to gently scrub, and then dipped in clean water to wipe off the detergent. When the parts of the refrigerator are found to be fouled, they should be removed and cleaned with water or detergent.