Summary:We are an advanced enterprise dedicated to the manufacture of ice maker, leading the innovation and development of the ice making industry. Since its ...
We are an advanced enterprise dedicated to the manufacture of
ice maker
, leading the innovation and development of the ice making industry. Since its establishment, we have always adhered to the core values of "innovation, quality and service", and are committed to providing efficient, intelligent and green cold chain solutions for global customers.

1. Innovative technology, smart ice art
In this era of rapid development, technological innovation is an important driving force for the progress of the industry. Adhering to the concept of "technology changes life", we continue to invest in research and development and innovation, and are committed to creating more intelligent and efficient ice machine products. By introducing advanced automation and intelligent technology, our ice machine can realize functions such as intelligent monitoring, precise temperature control, energy saving and environmental protection, and provide customers with a more convenient and safe use experience.

2. Quality assurance, made by Bingxin
Quality is the life of an enterprise, and we always regard quality as one of our core competitiveness. From raw material procurement to production and manufacturing, every process is strictly controlled to ensure the stability and durability of the product. Our ice machines have passed ISO9001 quality system certification, CE, RoHS and other certifications, fully comply with international standards and environmental protection requirements, and provide customers with assured high-quality products.

3. Green environmental protection, responsible
We firmly believe that green environmental protection is the social responsibility of enterprises. In order to reduce the impact on the environment, we continue to explore the use of environmentally friendly refrigerants and energy-efficient refrigeration cycle systems to reduce energy consumption and carbon emissions. At the same time, we encourage our customers to use renewable energy to power our ice machines, working together to build a sustainable future.

4. Customer first, service sincere
Customers are the source of our development, and creating value for customers is our eternal pursuit. We have established a global service network to provide timely and professional pre-sales consultation and after-sales service to solve problems and provide technical support for customers. We listen to the needs of customers and continuously improve products and services to meet the individual needs of different customers.

5. Create the future together and walk hand in hand
On the road of future development, we are willing to move forward hand in hand with global partners. With an open mind, we actively carry out cooperation and exchanges to promote the common development of the ice making industry. Let us forge ahead together and create a better tomorrow together.
YT-E-001A Ice Maker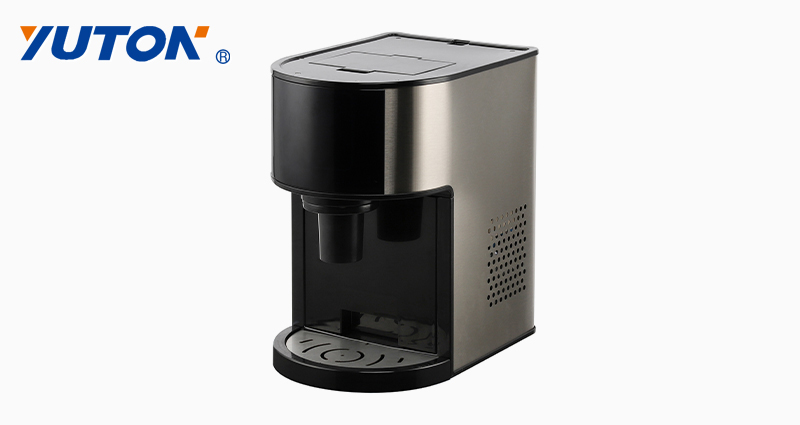 Features:
1. Quick ice making, 6-10 points can produce a round of ice cubes, which will automatically fall off to the ice basket after ice making.
2. Energy conservation and environmental protection: R134a or R600a refrigerant is used to save energy, environmental protection and electricity.
3. Infrared technology induction. The infrared technology is used to correctly sense the machine status such as full ice and water shortage. After the ice is full, the machine automatically stops working, and can continue working after taking out the ice; When the water tank is short of water, the machine will automatically stop working, and can continue to work after adding proper amount of water.
4. The foam layer of the ice storage bin has a long insulation time. The foam layer in front of the ice storage bin can store ice cubes for a short time.