Summary:If you're planning on living the van life, having a fridge in your vehicle is crucial. This will allow you to keep your food cold while also saving yo...
If you're planning on living the van life, having a fridge in your vehicle is crucial. This will allow you to keep your food cold while also saving you a lot of money on food and drinks at restaurants.A compressor fridge is the best option for van life, but they do come with a hefty price tag. That's because these fridges need a lot of energy to operate, so running them off your car battery is not recommended.
There are many 12V fridges on the market, and it can be difficult to know which ones are worth your hard earned cash. You have to consider how much storage space you need, your budget, and how long youll be using your portable fridge.There's a big difference between a good, quality portable fridge and a cheap, junky unit that does nothing more than keep beer ice cold. The best fridges for van life are built to be both efficient and convenient.There are two main styles of 12V fridges chest fridges and upright fridges. Chest fridges are shaped and configured like coolers and come with handles for easy portability, making them ideal for bouncing around your van. They also make it easier to pack the fridge tightly and eliminate wasted space, which is especially helpful if youre living in a small vehicle. Upright fridges have handles as well, but are less suited for portability.
A
12v car refrigerator
is a great way to keep your food and drinks cold in your camper van or RV while you're off-grid. These portable fridges have highly efficient compressors that draw little power, they come in a variety of sizes and configurations including chest-style, upright, and dual-zone units  and can run while at an incline up to 30 degrees other types of refrigerators need to be level when running).
The best 12 volt fridges will cool their freezer well below zero degrees and hold the refrigerator at a safe 40° F, which means ice cream will stay hard and your fruit will last longer. This is because most of these fridges operate on the same principle as residential refrigerators, which use active airflow to distribute the cool air throughout the unit.
A 12V fridge makes it easy to keep your food and drink cool when camping or enjoying a picnic. It allows you to take the same quality foods and drinks you have at home without the worry of them spoiling on your adventure.They're also easier to move around and stow away than propane RV refrigerators. Many of them have handles so you can easily move them around your van or SUV.The best 12V fridges are highly efficient, feature a variety of cooling and freezing zones, and can be used at an incline up to 30 degrees. Some even have a digital thermostat that allows you to set each compartment independently.There are a number of options to choose from, including some high-end models by popular vanlife brands like Dometic Waeco, Summit Appliance and Engel. These fridges are typically very reliable and stand up to long off-grid adventures.
YT-A-26X 20L 12V ABS Portable Thermoelectric Cooler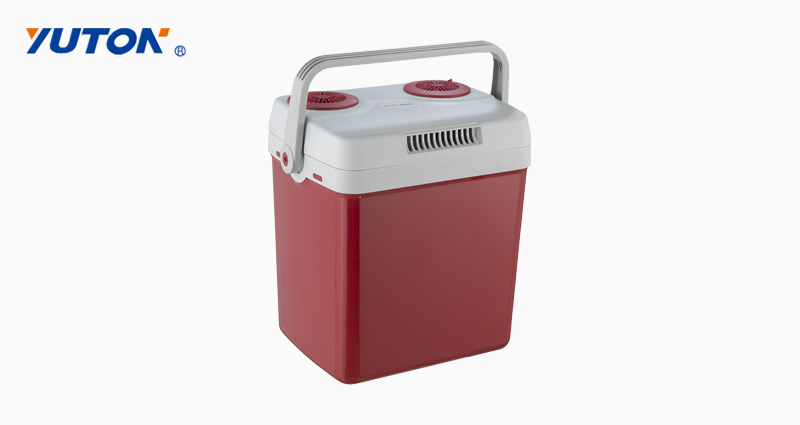 Features of product :
1.The product could use 100-240V alternating current or 12V direct current, and 12V cigarette lighter can be used in the car.
2.The product can be used for the cold storage of beverage, food and nutrition.
3.Portable and easy for transportation.
4.It includes removable carrier and attains the flexible storage management.
5.It works without noise and avoids interference.
6.YT-A-45X has a drawbar and rollers, which can be easily taken like a boot.