Summary:With the rapid development of science and technology, portable freezers, as a modern innovative product, are changing people's perception of refrigera...
With the rapid development of science and technology,
portable freezers
, as a modern innovative product, are changing people's perception of refrigeration equipment in an unprecedented way.

1. Cold storage experience beyond boundaries:
Traditional freezers are often limited to home or commercial use, but the lightweight design and portability of portable freezers allow them to cross boundaries with ease. Hiking, camping, boat sailing or field expeditions can now enjoy fresh and chilled food and drinks. Portable freezers broaden the boundaries of refrigeration experience, allowing people to enjoy the convenience of refrigeration anytime, anywhere, no longer limited by location.

2. Representatives of sustainable living:
The energy consumption of a portable freezer is usually relatively low, which makes it representative of a sustainable lifestyle. Many portable freezers utilize innovative energy-saving technologies, such as solar power or high-efficiency batteries, to provide users with a clean, environmentally friendly refrigeration solution. This also allows people to enjoy nature more freely without worrying about energy sources during outdoor activities.

3. Guardian of health and safety:
Portable freezers play a prominent role in protecting hygiene and safety during the process of keeping food fresh and cold. When camping or traveling outdoors, it is very important to prevent food spoilage and reduce the growth of bacteria. Portable freezers provide reliable temperature control to ensure food is always within a safe temperature range to avoid problems such as food poisoning.

4. Flexible business applications:
In addition to personal use, portable freezers also have unique applications in the commercial sector. For example, at outdoor events, fairs or events, portable freezers can provide stall owners with convenient refrigeration to keep their produce fresh and attractive to customers. In addition, industries such as medical transportation, mining, and scientific expeditions can also benefit from the use of portable freezers to ensure that specific items remain in good condition in different environments.

5. A sign of an innovative lifestyle:
The emergence of portable freezers not only changed the way food is refrigerated, but also revolutionized people's lifestyles. It gives people more freedom, so that life is no longer restricted by traditional refrigeration equipment. At the same time, the popularity of portable freezers has also stimulated more possibilities for innovation and promoted the development and application of refrigeration technology.
What sets the portable freezer apart is its portability, sustainability, hygienic safety, and wide range of applications. It brings the freezing experience to more scenes, and with its flexibility and innovation, it has become a symbol of an innovative lifestyle. In the future, we have reason to believe that portable freezers will continue to expand their application fields and bring more convenience and fun to people's lives.
YT-B-100S 98L 60W Stainless Steel Portable Refrigerator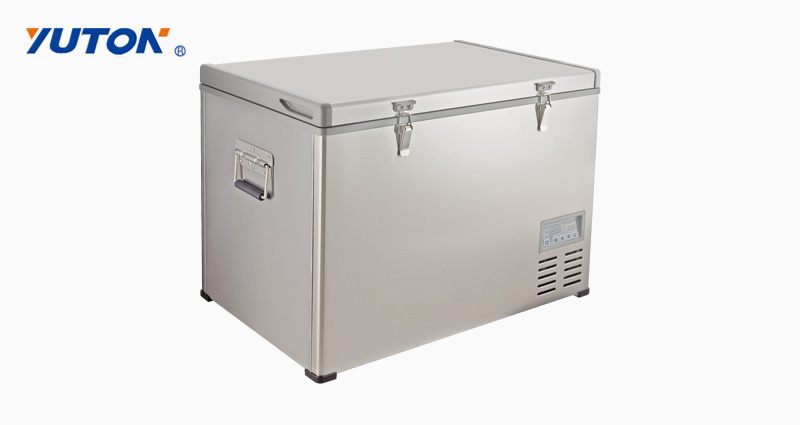 Features:
1. Unlike ordinary household refrigerators, it can be moved and used. The compressor is shock-resistant and can be operated at an angle of 30 degrees.
2. Intelligent circuit control system, with fast cooling, electronic temperature control, emergency switch, memory recovery, energy saving and other functions, more convenient to use.
3. The door cover can be removed for easy access to items and cleaning inside the box.
4. The built-in LED indicator of the refrigerator is convenient for night use.
5. Ergonomic handle design, strong and durable.
6. Built-in basket for easy access.