Summary:When buying a 12V car refrigerator, there are several important features to consider: 1.Capacity: Consider the size of the refrigerator and its storag...
1.Capacity: Consider the size of the refrigerator and its storage capacity, depending on your needs and the number of people traveling with you.


2.Power consumption: Make sure to check the power consumption of the refrigerator and ensure that it is compatible with your vehicle's battery and charging system. You don't want to drain your car battery and be stranded.


3.Temperature range: Check the temperature range of the refrigerator to ensure that it can cool to the desired temperature and store the types of food or drinks you want to carry.


4.Compressor or thermoelectric: Decide whether you want a compressor-based or thermoelectric-based refrigerator. Compressor-based refrigerators are generally more expensive, but they cool more efficiently and can reach much lower temperatures. Thermoelectric refrigerators are less expensive and more lightweight, but they may not be as effective in hotter climates.


5.Durability: Look for a refrigerator that is built to withstand the rigors of travel, with a sturdy construction and high-quality materials.


6.Portability: Consider the portability of the refrigerator, whether it can easily fit in your car, and whether it has features like handles and wheels for easy transport.


7.Noise level: Check the noise level of the refrigerator, especially if you plan to use it while sleeping or in a confined space.


8.Price: Finally, consider your budget and choose a refrigerator that offers the features you need at a price you can afford.
YT-B-75PX Hot Sale 58L/17L Portable Refrigerator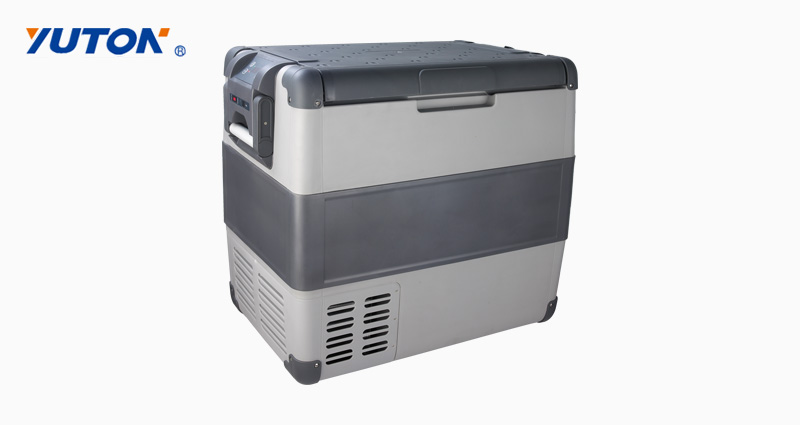 Features:
1. Unlike ordinary household refrigerators, it can be moved and used. The compressor is shock-resistant and can be operated at an angle of 30 degrees.
2. Intelligent circuit control system, with fast cooling, electronic temperature control, emergency switch, memory recovery, energy saving and other functions, more convenient to use.
3. The door cover can be removed for easy access to items and cleaning inside the box.
4. The built-in LED indicator of the refrigerator is convenient for night use.
5. Ergonomic handle design, strong and durable.
6. Built-in basket for easy access.