Summary:Ice machine is a kind of refrigeration mechanical equipment that generates ice after water is cooled by the refrigerant of the refrigeration system th...
Ice machine is a kind of refrigeration mechanical equipment that generates ice after water is cooled by the refrigerant of the refrigeration system through the evaporator. The refrigeration system is used, and the water carrier is used to produce ice after passing through a certain equipment in the electrified state. According to the principle of the evaporator and the different production methods, the shapes of the ice cubes generated are also different; people generally divide ice machines into granular ice machines, flake ice machines, plate ice machines, tube ice machines, shell ice machines, etc. Wait.
YT-E-006 2.5L 150W Round Ice In Bullet Shape Ice Maker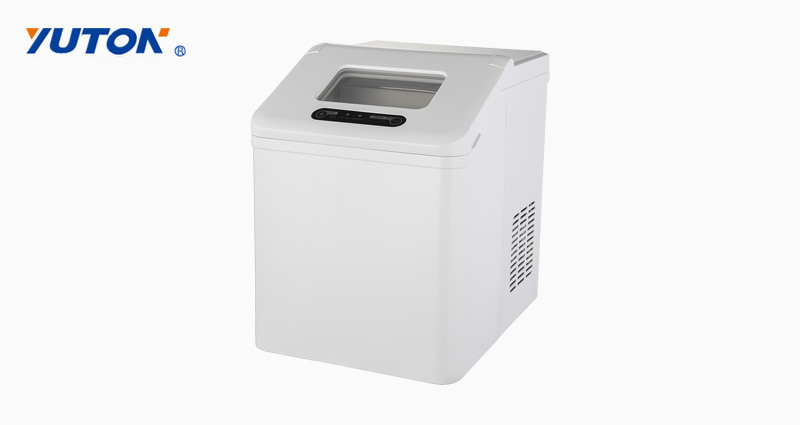 Feature of function:
1.Making ice quickly and it will cost 9-10 minutes a round of making ice. The ice will drop to the basket automatically.
2.It is economic and energy-saving. It uses environment friendly refrigerant R134a or R600a.
3.The product uses infrared sensitive technology to have correct reaction to the different conditions of the ice maker. When the basket is full of ice, the machine will stop working automatically. When ice cubes are taken away, the machine will work again. If the water tank lacks of water, the machine will also stop working to wait for more water.
4.Ice storage foam layer has good insulation. Front foam layer can store ice for a short time.


1. Application in aquatic product processing: flake ice can reduce the temperature of processing medium, cleaning water and aquatic products, prevent bacteria from growing, and keep aquatic products fresh during processing.


2. Application in meat product processing: mix flake ice that meets hygienic standards into meat and stir. In order to achieve the purpose of cooling and keeping fresh.


3. Application in food processing: For example, when stirring or second creaming in bread production, use flake ice to cool down for a short time to prevent fermentation.


4. Application in supermarkets and aquatic product markets: for the freshness preservation of aquatic products such as placement, display, and packaging


5. Application in vegetable processing: Flake ice is used in the harvesting and processing of agricultural products and vegetables to reduce the metabolism of agricultural products and the growth rate of bacteria. Extend the shelf life of agricultural products and vegetables.


6. Application in the process of long-distance transportation: Ocean fishing, vegetable transportation and other products that need to be cooled and kept fresh are more and more used in long-distance transportation to cool down and keep fresh with flake ice.


7. It is also widely used in laboratories, pharmaceuticals, chemicals, artificial ski resorts and other industries.


8. Application in concrete engineering: When concrete is poured in a large area in hot season, the pouring temperature of concrete must be reasonably controlled. Flake ice + cold water mixing is a common method.