Summary:A refrigerator is a portable temperature-controlled container. These containers are commonly used to store and transport liquids and food. These conta...
A refrigerator is a portable temperature-controlled container. These containers are commonly used to store and transport liquids and food. These containers are usually made of plastic and insulated to keep the contents cool and fresh. If you want to protect your priceless treasure from damage caused by temperature fluctuations, consider climate-controlled storage. These
cooling boxes
keep items at a consistent temperature to prevent warping and mildew. The temperature can be adjusted as needed based on the items you store. Using these boxes is cheaper than buying climate-controlled enclosures. Also, these boxes are usually large, so you can take them to a storage facility as needed. When storing sensitive items in the warehouse, store them in the back of the device, away from doors. This will help promote airflow and prevent moisture. You can also use absorbent products to protect your items from damage. These products help drain moisture from storage units and prevent freezing and mildew. Another advantage of climate-controlled storage is that it keeps your belongings at a constant temperature.
YT-B-65PX 52L/13L 58W Camping Portable Refrigerator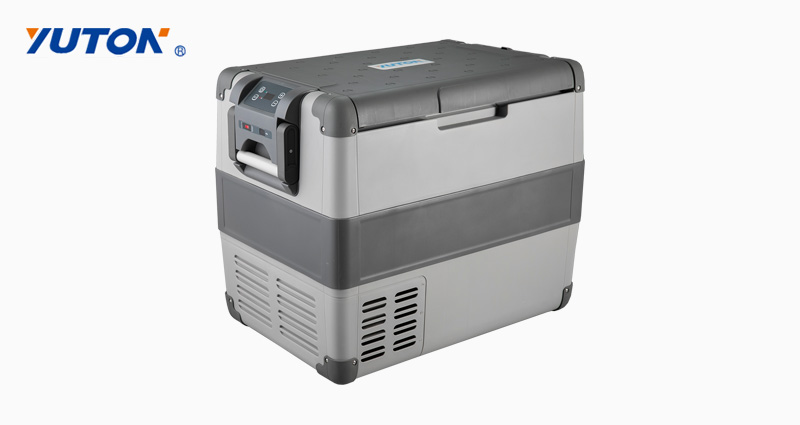 Features:
1. Unlike ordinary household refrigerators, it can be moved and used. The compressor is shock-resistant and can be operated at an angle of 30 degrees.
2. Intelligent circuit control system, with fast cooling, electronic temperature control, emergency switch, memory recovery, energy saving and other functions, more convenient to use.
3. The door cover can be removed for easy access to items and cleaning inside the box.
4. The built-in LED indicator of the refrigerator is convenient for night use.
5. Ergonomic handle design, strong and durable.
6. Built-in basket for easy access.
The temperature is usually between 55 degrees Fahrenheit. By contrast, non-climate-controlled storage units don't have this feature, so the inside temperature will mirror the outside temperature. Therefore, you need to choose a cooling unit that matches the temperature you need to store your valuables. When shipping perishable products, temperature-controlled shipping is necessary. Different temperatures can affect important drugs, clinical trials and vaccines. There are many types of temperature-sensitive goods, and different carriers can accommodate different types. Be sure to list the goods and conditions you need before contacting the carrier. The temperature-controlled transport of pharmaceuticals is a complex operation involving many stakeholders. The ultimate goal is to ensure the quality of medicines in transit. This requires the use of active and passive packaging systems. Additionally, you must ensure that temperature control remains constant throughout the shipping process.
Temperature-controlled transportation is essential for many different industries. It protects sensitive medicines and products from damage in inclement weather.In addition to protecting your products, this shipping method is also more affordable and reliable than traditional shipping methods. The right carrier will be able to provide the service you need while also adding value to your supply chain. Temperature-controlled transport of pharmaceutical products is critical for patient care and safety. Correct packaging can prevent the risk of infection for the patient. Temperature Control Boxes are the ideal solution for transporting temperature sensitive products. According to the World Health Organization, 25% of liquid vaccines are wasted due to improper handling.
Use temperature-controlled shipping to reduce this waste to a fraction. A liquid nitrogen cooling box was used to cool the samples before use. A box can contain up to 84 0.5 mL tubes or 64 1.5 mL tubes. The box's numbered grid facilitates sample identification. They are sized to fit standard freezer racks, vertical and horizontal, and drawer freezer racks. Liquid nitrogen cooling is beneficial in many different industries, such as food manufacturing. This freezing and refrigeration process helps reduce cycle times, inhibit microbial growth and improve product quality. It can also be used to cool sauces, gravies and other products. Lower temperatures help food manufacturers better control the coating process.