Summary:A portable freezer is a compact and self-contained appliance designed to provide portable freezing or refrigeration capabilities. It is typically smal...
A
portable freezer
is a compact and self-contained appliance designed to provide portable freezing or refrigeration capabilities. It is typically smaller in size and more lightweight compared to traditional freezers, making it easier to transport and move around. Here are some key differences between portable freezers and traditional freezers:

1.Size and Portability: Portable freezers are designed to be easily transported, whether for outdoor activities like camping or for use in small spaces like dorm rooms or RVs. They are compact and lightweight, allowing for convenient portability. In contrast, traditional freezers are larger and generally not designed for frequent relocation.
2.Power Source Options: Portable freezers offer various power source options to suit different needs. They can be powered by AC (standard electrical outlet), DC (car or boat battery), or even have built-in rechargeable battery options. This versatility allows for use in diverse environments where power sources may be limited or unavailable. Traditional freezers typically rely solely on AC power.
3.Cooling Technology: Portable freezers utilize various cooling technologies, such as compressor-based cooling or thermoelectric cooling. Compressor-based portable freezers function similarly to traditional refrigerators and freezers, using a compressor and refrigerant to cool the interior. Thermoelectric portable freezers use the Peltier effect, which utilizes a solid-state heat pump for cooling. Traditional freezers generally employ compressor-based cooling systems.
4.Storage Capacity: Due to their compact size, portable freezers generally have smaller storage capacities compared to traditional freezers. They are designed for storing a limited amount of items or for shorter durations. Traditional freezers offer larger storage capacities suitable for long-term storage of larger quantities of food or other perishable items.
5.Versatility of Use: Portable freezers are often designed to provide both freezing and refrigeration functions, allowing users to adjust the temperature as needed. This versatility makes them suitable for a wider range of applications, such as keeping food frozen or refrigerated during camping trips or transporting temperature-sensitive medical supplies. Traditional freezers primarily focus on freezing capabilities.
It's important to consider these differences and understand the specific features and specifications of individual models when selecting a portable freezer. Manufacturers may offer various sizes, cooling technologies, and additional features to meet different needs and preferences.
YT-B-50PX 40L/10L Grey 12V/24V Portable Refrigerator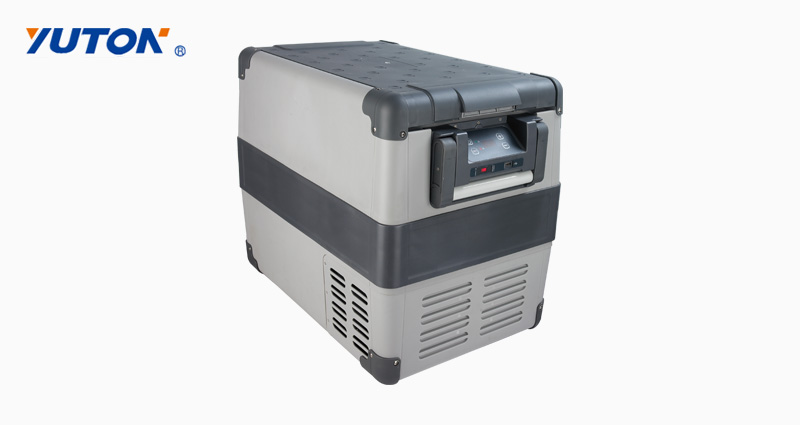 Features:
1. Unlike ordinary household refrigerators, it can be moved and used. The compressor is shock-resistant and can be operated at an angle of 30 degrees.
2. Intelligent circuit control system, with fast cooling, electronic temperature control, emergency switch, memory recovery, energy saving and other functions, more convenient to use.
3. The door cover can be removed for easy access to items and cleaning inside the box.
4. The built-in LED indicator of the refrigerator is convenient for night use.
5. Ergonomic handle design, strong and durable.
6. Built-in basket for easy access.