Summary:Using a compressor-driven cooling boxes is a bit like having your own home fridge. It's a great way to stay cool while camping or driving. The advanta...
Using a compressor-driven
cooling boxes
is a bit like having your own home fridge. It's a great way to stay cool while camping or driving. The advantage of these boxes is that they use less power than ordinary refrigerators, so they are usually more energy-efficient. And because they use a compressor, they are often surprisingly quiet.For the best results, you should look for a unit that is insulated well. You want a box that is able to maintain its cold temperature even if the compressor doesn't run. Also, you want a box that has an app that can set the temperature remotely.There are two basic types of compressor-driven cooling boxes. The first uses an electric compressor to cool the box, and the second uses an engine-driven system. Each type works the same way, though the technology behind them is different.Various types of insulated containers are available. They can be used for a variety of applications. They are used to protect temperature sensitive materials, including enzymes, cells, and solutions. They also can be used for short-term frozen storage.
ABD-35L 30L 48W 220V/12V ABS Thermoelectric Cooler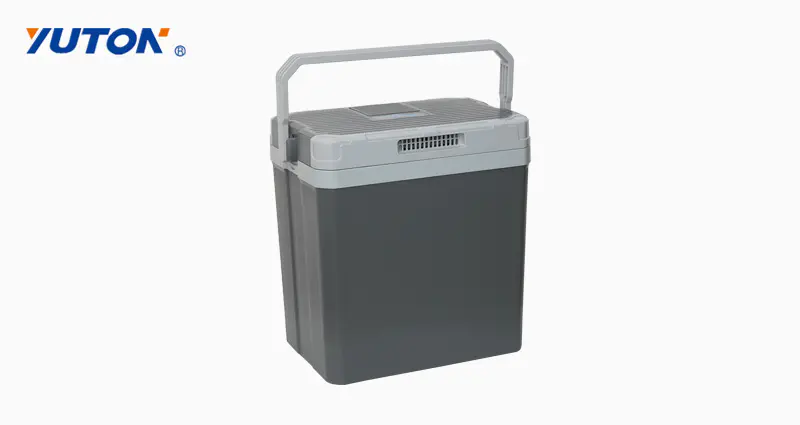 The thermal-boxes for cooling are able to preserve heat by insulating the interior from the surroundings. They are made of high impact polystyrene and are thermally isolated by a polyurethane isolating jacket. They are ideal alternatives to active cooling options.The inner container contains an eutectic plate. This eutectic plate is designed to conserve sensitive products. While the full volume of the insulated box is beneficial, it is also possible to use the outside of the box for additional heat capacity. The eutectic plate is inserted into a slot in the supporting frame.Invented in the 1950s, the Esky Auto Box was the first of its kind to be manufactured in Australia. It was a compact, metal box with an insulated envelope, a slick handle and a fancy lock. The aforementioned flap and lid were made from galvanised metal and were clad in an enamelled pressed metal finish. The aforementioned envelope was lined with cork.
The auto box was not the only cooling device to grace Australian shores. In fact, it was not until 1960 that the first motorized version hit the shelves. This model featured a three-tray food rack. In addition to the three-tiered gizmo, the Esky brand also introduced a bottle opener. The Esky brand was born and in time became one of the most successful cooler manufacturers in the country.Whether you are on a camping trip, fishing expedition or a road trip, a HeroCamper cooling box can help you keep food cold. It can also be used to keep food fresh. It is a compact device that weighs just 12.8 kg. You can easily connect it to a 230V cigarette socket in your car. It is also compatible with a Bluetooth connection. Using the app, you can control the temperature and the power on/off. You can even set up a childproof lock.You can choose from a wide variety of models. The Ranger by Hero Camper has a rugged design and is assembled in Denmark. It features an integrated water tank and an A/C unit. It includes heavy duty off-road tires and an off-road bracket for axle protection. Its interior is fully insulated and has fabric and leather decorations.
It also features a high-end 30A LifePo powerpack.Using the Kampa Chilly Bin is a great way to keep food and drinks cool during camping trips. It features a high density PU foam and a handy pull handle. It is also equipped with wheels for easy mobility. The best part is that you can actually use the lid as a seat.A similar feat is accomplished by the Kampa Freeze Pack, which is composed of non-flowing HDPE refrigerant gel. This is not suitable for thermoelectric coolers, but it does the job. It keeps drinks and food cool, and even has a small freezer compartment that can be used to store medicines. You can purchase the freeze pack in different sizes.Another cool box aficionado might not have noticed is the Kampa 45L TE Cooler, which is a twin powered 240V/12V unit. It boasts double cooling fans and a low power consumption of 48W.