Summary:The 12V Portable Refrigerator utilizes cutting-edge thermoelectric cooling technology, allowing it to cool or freeze items to your desired temperature...
The
12V Portable Refrigerator
utilizes cutting-edge thermoelectric cooling technology, allowing it to cool or freeze items to your desired temperature range quickly. Whether you need to keep your drinks chilled during a long road trip, store perishable goods on a camping adventure, or maintain temperature-sensitive medications in a medical setting, this refrigerator provides consistent and precise cooling performance.

Crafted with durability in mind, the 12V Portable Refrigerator boasts a robust construction that can withstand the rigors of demanding environments. Its high-quality materials ensure longevity, while the compact design and lightweight nature make it easy to transport and store. The refrigerator also features a sturdy handle and secure latching system, ensuring hassle-free carrying and preventing any accidental openings during transit.

Equipped with a 12V DC power input, this portable refrigerator can conveniently connect to a vehicle's cigarette lighter socket, ensuring continuous operation even during extended road trips or outdoor excursions. Additionally, the refrigerator includes an AC adapter, enabling you to power it using a standard wall outlet whenever necessary. This versatile power compatibility ensures that you have reliable cooling capabilities wherever you are.

The 12V Portable Refrigerator offers ample storage capacity to accommodate your various needs. With its well-designed interior layout and adjustable shelves, you can easily organize and access your items. The refrigerator also features intelligent temperature controls, allowing you to set and monitor the internal temperature with precision. Its energy-efficient design ensures minimal power consumption while delivering optimal cooling performance.
Safety and convenience are paramount considerations in the design of the 12V Portable Refrigerator. The refrigerator includes advanced features such as low-voltage protection and automatic shutdown to prevent battery drain, ensuring that you never encounter unexpected power issues. Furthermore, the refrigerator operates silently, ensuring a peaceful environment during your journeys or restful nights in the outdoors.
YT-B-75PX Hot Sale 58L/17L Portable Refrigerator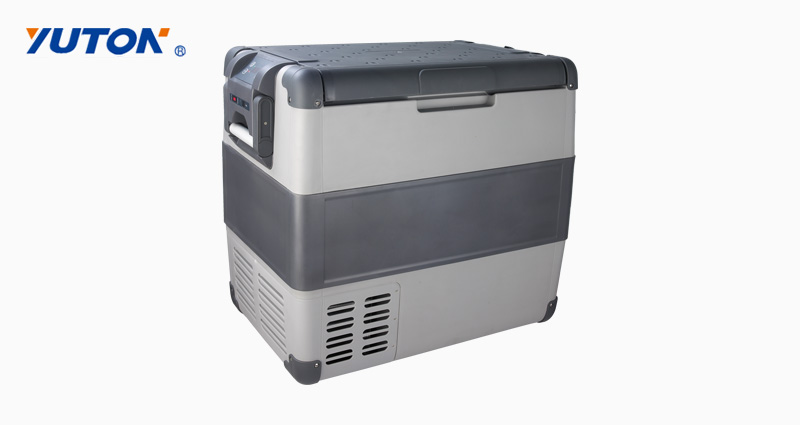 Features:
1. Unlike ordinary household refrigerators, it can be moved and used. The compressor is shock-resistant and can be operated at an angle of 30 degrees.
2. Intelligent circuit control system, with fast cooling, electronic temperature control, emergency switch, memory recovery, energy saving and other functions, more convenient to use.
3. The door cover can be removed for easy access to items and cleaning inside the box.
4. The built-in LED indicator of the refrigerator is convenient for night use.
5. Ergonomic handle design, strong and durable.
6. Built-in basket for easy access.